Bicycle Accidents
Fighting For Cyclists After An Accident
Call for a free consultation at 203-776-4500.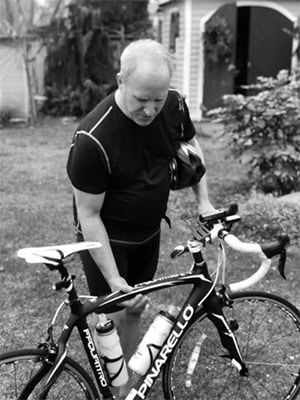 From our offices, located next to the courthouse, in downtown New Haven, the lawyers at Mills & Cahill have witnessed the joy of seeing so many cyclists around town, including the Critical Mass bike ride, when cyclists gather every month, just outside our offices, for a group ride. We have also participated in efforts to add cycling lanes and more bike racks in downtown New Haven and we strive to promote a greener, cleaner New Haven. We are avid cyclists and know firsthand the enjoyment riding brings. Attorney Mills has lived in New Haven for more than twenty years, and usually cycles to and from work.
Connecticut is a beautiful state, with many avid cyclists. However, in our law practice, we also have witnessed, too frequently, the devastation of a bicycle accident and the injuries caused by these accidents. In fact, Attorney Mills, himself, has been struck by a van, while riding, and can relate, firsthand, to what victims of these accidents go through. We draw on our love of cycling and our personal experiences when representing and fighting for our clients.
Experienced Lawyers Who Are Passionate About Bicycle Accident Claims
Our lawyers have more than 35 years of combined experience in personal injury law. We are dedicated to obtaining full and fair compensation for your cycling accident injury or wrongful death compensation if a family member was killed while riding a bike.
We are active cyclists ourselves and have a special empathy for the victims of these accidents. We have recovered millions on behalf of injured bicyclists, including a $2.3 million dollar jury verdict for a cyclist killed in West Haven and $700,000 jury award for a cyclist who fell due to a speed bump in Norwalk.
We have tried or settled many more claims for cyclists, and we stay current on all aspects of cycling law and cycling safety. We also participate in numerous cycling charity events throughout Connecticut and educate cyclists throughout the state on bike laws and cyclists' rights.
Pursuing Full And Fair Compensation For Injured Cyclists
Mills & Cahill, LLC, pursue compensation for all causes of bicycle accident injuries:
Driver negligence or illegal maneuvers
Failure to use turn signals or to watch for cyclists
Failure to look for oncoming riders when opening doors or pulling into traffic
Hazardous road conditions (potholes, sand and gravel, construction)
Product defects (helmet failed, chain broke, wheel bent)
Our attorneys will work to negotiate a full and fair settlement for the harm you suffered. However, if a fair settlement cannot be reached, we are not afraid to try your case before a jury. We take many tough cases, including those that involve complex issues, which many other law firms may be reluctant to take on.
Attorney Mills and Attorney Cahill have tried hundreds of cases to verdict, representing clients in civil litigation for over 30 years. This experience works to your advantage as they can anticipate and counter the opposing side's strategy in order to get their clients the best results.
Unfortunately, sometimes police are biased against bike riders, but as avid cyclists, we support your rights and want to ensure you get the compensation you deserve. Our attorneys assist many clients who have suffered serious injuries during cycling events like bicycling month and in popular local biking venues, such as the areas surrounding the Yale University campus and bike routes along the Connecticut shoreline, including Branford, Madison and Guilford.
If you or a loved one was injured or killed while riding a bike in Connecticut, contact the lawyers of Mills & Cahill, LLC. You can call us locally at 203-776-4500 to schedule a consult.
We offer a free consultation, and we can visit you at your home or hospital, including evenings or weekends by appointment. We have Spanish translators on staff if that is needed.